Surface RT is Microsoft's Windows RT (Windows on ARM) launch vehicle, while Surface Pro is based on Intel x86 hardware. Surface Pro uses an Ivy Bridge based Core i5 (ULV) processor with Intel HD 4000 graphics. Contrary to what I assumed initially, Surface Pro will launch with a 17W Ivy Bridge CPU - so this is the same chip you'll find in modern Ultrabooks. Without a doubt we'll see a Haswell version sometime next year, but not at launch. I wondered if we might see Microsoft use Intel's upcoming 10W Ivy Bridge, but at this point that seems unlikely.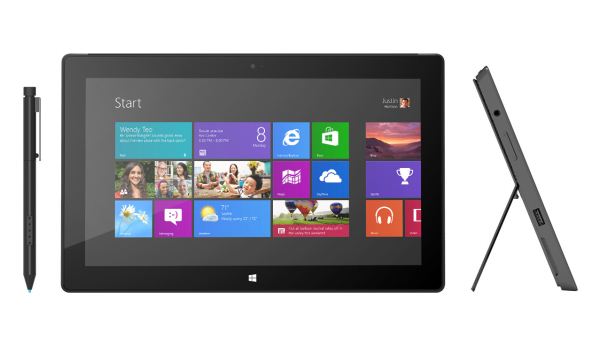 Surface Pro keeps the same display size, but increases tablet thickness by 43% over the RT version. Weight is also up by half a pound. Screen resolution goes up as well, at 1920 x 1080. Memory capacity also increases to 4GB, and Surface Pro comes with much more NAND on-board. With a 7-series chipset you get SATA support, so my money is on Surface Pro having a full blown SSD inside instead of something eMMC based.
Microsoft Surface Comparison
Surface RT
Surface Pro
Apple iPad 4
Dimensions
10.81 x 6.77 x 0.37"
10.81 x 6.81 x 0.53"
9.50 x 7.31 x 0.37"
Display
10.6-inch 1366 x 768 PLS
10.6-inch 1920 x 1080 PLS?
9.7-inch 2048 x 1536 IPS
Weight
1.5 lbs
2.0 lbs
1.44 lbs
Processor
NVIDIA Tegra 3

Core i5 with HD4000 Graphics (Ivy Bridge)

Apple A6X

Connectivity
WiFi
WiFi
WiFi , Optional 4G LTE
Memory
2GB
4GB
1GB
Storage
32GB or 64GB
64GB or 128GB
16GB—64GB
Battery
31.5 Wh
42.0 Wh
42.5Wh
Starting Price
$499
$899
$499

Battery capacity goes up to 42Wh, an increase of 33%, putting it about on par with the 3rd and 4th generation iPads. Charger size also goes up to 48W compared to 24W with the RT version. Update:
Microsoft announced via its Surface Twitter accoun
t that the Pro version would offer roughly half the battery life of Surface RT. Without S0ix support, Surface Pro should look a lot like a standard Ultrabook when it comes to battery life. If you want the best of both worlds, Haswell will be what you'll need to wait for.
The big news is we now have pricing for Surface Pro: $899 for the 64GB model and $999 for the 128GB model, both available in January 2013. Both versions come with a Surface pen, but neither includes a touch or type cover. Microsoft's Surface Pro pricing is clearly higher than any other ARM based tablet, but I'd look at it more as an Ultrabook/MacBook Air alternative. I'll reserve final judgement for when I get my hands on a review sample, but I'm pretty interested to see how the Pro does in our tests. This could end up being one of the better Ultrabooks. I do wish Microsoft had thrown in a touch or type cover into the bundle though, that would make it a real alternative to a standard Ultrabook without having to pay for anything else. It is entirely possible that Microsoft is banking on notebook users bringing a more traditional keyboard and mouse for work though.
The other big omission is the lack of Thunderbolt support. I don't know what it is with Microsoft's crusade against Thunderbolt (the port is no longer on Acer's W700 either), but I think that's a big mistake. Surface Pro would be a great platform for Thunderbolt in my opinion.
For full specs check out the Surface Pro on
Microsoft's site.